Moonlight Cinema, presented by Aussie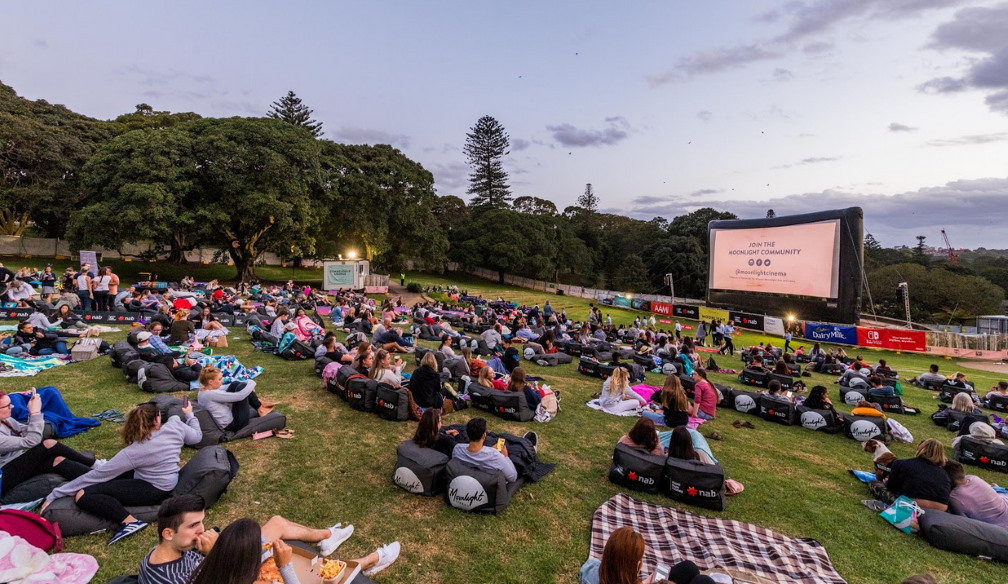 MOONLIGHT'S MARCH PROGRAM DELIVERS CINEMATIC CLASSICS, ANNIVERSARY SCREENINGS, AND FILMS FOR FAMILIES
March at Moonlight Cinema, presented by Aussie, is all set for another month of exciting programming, featuring films for everyone – from romance and thrillers to kids flick, cult hits, musicals, and more.
March will be the final month of the season in Sydney and Perth – so don't miss out! Melbournians will get to experience another month of starlit cinema with their season continuing throughout April. With reduced capacities so guests can spread out and enjoy the Moonlight experience in comfort, sessions are sure to sell fast!
Check out the highlights of the March line-up:
ANNIVERSARY SCREENINGS
For 25 years Moonlight has been the go-to outdoor summer experience. To celebrate, the March program features two films also celebrating their 25th birthday: Trainspotting starring Ewan McGregor, and Baz Luhrmann's modern adaption of Romeo + Juliet, starring Leonardo DiCaprio and Claire Danes.
CULT CLASSICS
Moonlight is famous for reliving cinema's most beloved cult classics. Relish in the gore and style of Quentin Tarantino's Kill Bill Vol 1, wrap up in your best cardigan for a night-out with The Dude in The Big Lebowski, and don your best black shades and fedora for Blues Brothers.
MARCH MUSICALS
The March program brings with it a stellar line-up of musicals to jam out to, from timeless classics Grease and The Rocky Horror Picture Show, to modern hits Mamma Mia and La La Land.
80s FAVOURITES
Moonlight is the perfect place to settle in for a breezy night of nostalgia. Dust off your scrunchies, ankle warmers and stone washed denim for timeless eighties classics Pretty in Pink, The Breakfast Club, and Dirty Dancing, screening this month.
PERIOD ROMANCE
To the hopeless romantics left longing for more forbidden hand-grazing after binging Bridgerton, Moonlight has them covered with the couple who started it all, Lizzie Bennet and Mr. Darcy, in Pride and Prejudice.
FAMILY EASTER FILMS
A favourite and affordable outing for families, Moonlight always delivers incredible kids films, and March is no different with its slate of films for Easter Weekend. Join Robert DeNiro in The War with Grandpa, a hilarious flick about a grandpa and grandson's prank war. And on Easter Sunday, get yourself all bright-eyed and bushy-tailed for Peter Rabbit, filmed in Centennial Parklands – home of Sydney's Moonlight Cinema.
Being a BYO event, Moonlight is one of the easiest nights out to plan. Prepare a picnic of mouthwatering morsels, sweeties for the little ones or a bottle of bubbly; you can bring it all to Moonlight. And if you don't have time to pack your own, Moonlight Cinema will have you covered with onsite food trucks offering up a licensed bar, pre-packed picnic boxes, tasty hot food and movie snacks.
Tickets for this starlit autumn experience are on sale now at: https://www.moonlight.com.au/
WHAT:                                  Moonlight Cinema, presented by Aussie
WHERE & WHEN:                  Sydney: Centennial Park, 2 March 2021 — 4 April 2021
                                              Perth: Kings Park & Botanic Garden, 2 March 2021 — 4 April 2021
                                              Melbourne: Royal Botanic Gardens Victoria, 2 March 2021 — 4 April 2021
Website: www.moonlight.com.au
Facebook: facebook.com/moonlightcinema
Instagram: instagram.com/moonlightcinema
CLEANING AND PEACE OF MIND
Moonlight Cinema will roll out a range of new sanitisation and wellbeing initiatives as part of reopening, including:
Social Distancing
Social distancing measures have been put in place across all Moonlight venues including queue controls and capacity limits. All guests are required to maintain the adequate distance from other guests outside their group. Safety marshals will be onsite at each screening to ensure social distancing guidelines are being met.
Increased Hygiene
Moonlight has increased site hygiene facilities. There will be hand-sanitising stations throughout venues and enhanced cleaning measures of high-frequency touchpoints.
Online Bookings
Online bookings are strongly recommended.
Bins Available
Bins are readily available across the venue and all guests are encouraged to dispose of their own rubbish.
Contactless Payment
Moonlight Cinema is a cashless venue. Contactless payment is required in all outlets.
A Proven Approach
As a part of the Event Hospitality & Entertainment Group family, Moonlight Cinema's comprehensive wellbeing plans are above and beyond industry standard initiatives that have been implemented successfully at other Event Hospitality & Entertainment properties (Event Cinemas and Thredbo) over the last few months.