Written by Scene Magazine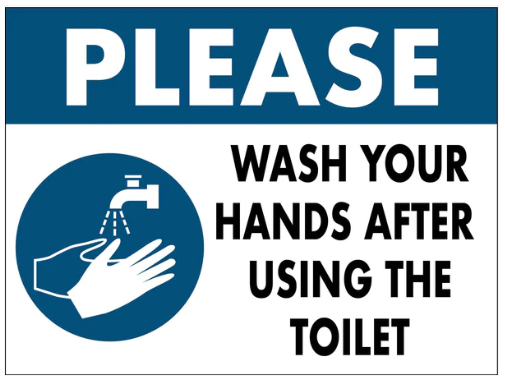 Bathroom signage, an integral component of businesses and public areas, serves multiple purposes beyond providing information about restroom availability and locations. It ensures that individuals can navigate facilities safely and comfortably. With a diverse range of options available, including traditional labels and modern digital displays, bathroom signage can be informative, decorative, or even serve as a branding tool. Regardless of its purpose, bathroom signage plays a vital role in equipping visitors with essential information when utilizing restroom facilities.
Benefits of Bathroom Signage
Effective bathroom signage in public restrooms offers significant advantages that contribute to a comfortable and secure experience for customers. Let's explore some of these benefits:
Easy to Find: Well-designed bathroom signs facilitate the quick and effortless location of restrooms within your facility or business. Clear markings of bathroom signage reduce confusion and frustration, saving valuable time and energy for individuals, and allowing them to promptly resume their activities.
Clear Directions: Bathroom signage provides customers with precise instructions on how to correctly use restroom facilities. It helps indicate the location of handwashing supplies and identifies gender-specific stalls, thereby ensuring safe and respectful restroom usage while preventing potential embarrassing situations due to direction-related confusion.
Safety & Security: Properly placed bathroom signs promote safety by highlighting emergency exit locations in case of evacuations or other emergencies. They also draw attention to potential hazards like wet floors or slippery surfaces. Moreover, if security cameras are installed, signs can indicate their presence, enhancing overall safety and security.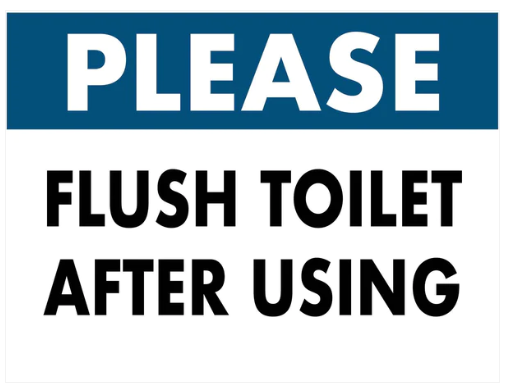 Types of Bathroom Signage
The realm of bathroom signage encompasses various options that cater to the unique needs of businesses and organizations. From promoting proper hygiene practices to labelling gender-neutral restrooms, the choice of signage depends on specific requirements. Here are some common types of restroom signs that ensure a safe and inclusive environment for everyone:
ADA-Compliant Signs: Depending on your building's layout, installing ADA-compliant signs may be necessary to comply with local regulations. These signs feature Braille or raised letters, often accompanied by graphic images illustrating accessible facilities such as grab bars or lower sinks.
Gender Neutral Restroom Signs: To foster inclusivity, consider installing gender-neutral signs that do not designate a specific gender identity or expression. Such signage promotes a welcoming atmosphere where individuals of all gender identities or expressions feel respected and valued.
Hand Washing Signs: Clear instructions on handwashing are crucial for preventing the spread of germs in public restrooms and areas where food is prepared or served. Displaying prominent hand-washing signs can greatly contribute to maintaining cleanliness and hygiene.
Customization Options for Bathroom Signage
Bathroom signage requires customization to effectively convey messages and guide the public. Different businesses and venues have unique styles and branding needs. Fortunately, a wide range of customization options is available, ensuring a perfect fit for your requirements.
Start by considering ADA-compliant restroom signs. These signs employ highly visible symbols, including Braille lettering and tactile letters, enabling individuals with visual impairments to easily identify restroom doors. Complying with the Americans with Disabilities Act (ADA), providing such signage is essential for all businesses and venues.
Additionally, you can customize signs by incorporating logos or text. This customization is particularly useful if you want to showcase your business identity or reinforce brand recognition. Adding logos to signs, such as "Please Wash Your Hands," can establish a strong visual connection between your brand and customer experience.
Regulations and Requirements for Placing Bathroom Signs
Placing bathroom signs involves adherence to specific regulations and requirements to ensure compliance and a safe restroom environment. It is essential to be aware of both federal and local laws governing restroom signage placement. Let's explore some key considerations:
The Americans with Disabilities Act (ADA) outlines criteria for accessible restrooms and associated signage in public places, such as restaurants, stores, and office buildings. ADA standards stipulate that restroom signs should be at least 5 inches by 5 inches in size, and mounted no higher than 48 inches above the floor level. The text should be printed in letters at least 1 inch high, with a contrasting background colour for easy legibility from a distance.
Furthermore, many states have additional regulations beyond federal mandates. For example, California law requires restroom signs to include gender symbols and Braille lettering of specific sizes when not utilizing universal symbols.
Conclusion
Bathroom signage significantly contributes to ensuring a safe and comfortable washroom experience for all individuals. By providing clear instructions, reducing confusion, and promoting safety measures, signs play a crucial role in creating positive restroom experiences. Additionally, they foster an inclusive atmosphere by addressing issues like gender neutrality and language diversity. Customizable options allow businesses and organizations to tailor signage to their specific needs. Ultimately, bathroom signage is an essential element in promoting positive restroom experiences across all types of facilities.