House of Rohl & Studio Mica reveals show-stopping concept bathroom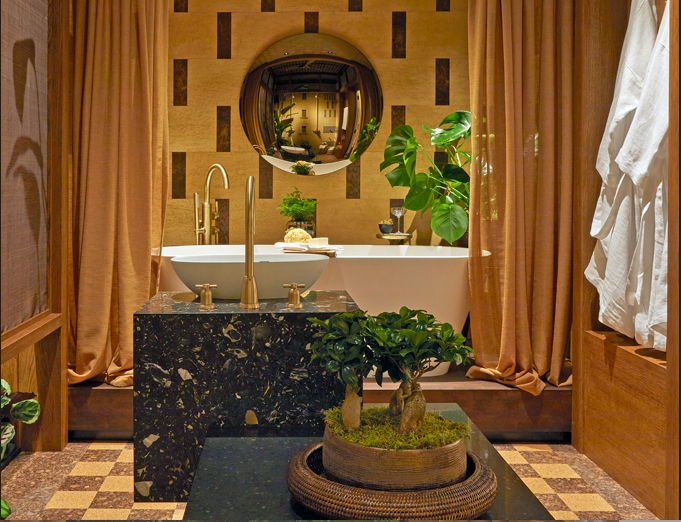 HOUSE OF ROHL INTRODUCES AN EXTRAORDINARY NEW BATHROOM DESIGN FOR THE WOW!HOUSE EXHIBITION 
The House of Rohl – a family of luxury bathroom and kitchen brands including Victoria + Albert baths, Perrin & Rowe, Shaws of Darwen and Riobel brassware – once again presenting a show-stopping concept bathroom at the WOW!House, the newly-established annual exhibition at the Design Centre, Chelsea Harbour, earlier this month.
House of Rohl was privileged to be working with award-winning designers and architects, Studio Mica, on the project. Studio Mica is one of London's most exciting design practices, best-known for blending East End industrial heritage with Japanese influences for the interior of Robert de Niro's Nobu Hotel Shoreditch, but with a wide portfolio of outstanding work across hospitality, residential and commercial contracts.
The WOW!House is described by the organisers at the Design Centre as an 'immersive design experience. Visitors can walk through room after room of imaginative wonder, each space created by one of 20 acclaimed interior designers, working closely with renowned makers and international design houses. A huge 400m2 showhouse has been specially commissioned for the event, and there will be simply nothing like it in the UK.'
The first WOW!house in 2022 introduced the concept to the international design community and was met with near universal acclaim. Now the idea is established, the challenge in the second year is to exceed these high expectations.
The House of Rohl team has worked with Studio Mica on several hotel projects and knew they would be ideal partners. Both for the imagination and originality with which they approach a design brief, and the enthusiasm and attention-to-detail they bring to the execution. Their international perspective combines influences from East and West to create spaces of style and soul. 
Carolynne Shenton, co-founder of Studio Mica explains her decision. 'We were invited to the Charity Gala last year and thought the WOW!house experience was wonderful. In the professional world you often work with complex and restrictive design briefs, but to have complete freedom to create anything, as long as it is unique and exciting, was an opportunity we didn't want to turn down.' 
James Smith, House of Rohl's Director of Marketing & Innovation EMEAA, adds: 'The WOW!house really delivered on its initial premise, to add something entirely new to the design calendar, combining the best talent and products in a showhouse of design ideas. Last year's concept was going to be hard to top, so we wanted to work with exceptional designers. Studio Mica were the perfect choice.'

The Concept
Bathrooms seldom feature among designers' favourite spaces. They are difficult, technical rooms, where functional needs take priority. Studio Mica, however, embraced the challenge of bringing fresh thinking to bathroom design.
Their initial mood board has hints of Japanese bathing rituals, but Studio Mica didn't want the room to be associated too strongly with a single region. The design deftly blends influences from many cultures, choosing natural materials and textures to create a bathroom that feels entirely original yet immediately deeply comfortable.
At the centre of the room is a massage table, constructed from Italian Terrazzo in jet black with flecks of golden marble, with a raised plinth for a washbowl (a Barcelona basin from Victoria + Albert). This bespoke piece sets the tone for the room; a space of restoration and relaxation. When not used for massage or stretching, it provides a welcome seat to enjoy the warm, steamy atmosphere after a shower or bath. Above, a timber rotary fan turns lazily, a reminder of tropical climes (the fan is beautifully made by Faro of Barcelona).
To the right is a Victoria + Albert Vetralla freestanding bath, in a matt finish to gently diffuse the light, matched with Perrin & Rowe's Langbourn brassware in a warm Satin Brass. This beautiful bath sits regally within an alcove, raised on a dais and cosseted by curtains (from the Embrace collection by JAB). On the wall behind hangs a striking convex bronze mirror from Alguacil & Perkoff, offering a reflection that magically captures the entire room.
To the left, a supremely indulgent 'his and hers' shower. Satin brass Perrin & Rowe Langbourn showers are shamelessly luxurious, with spa wall jets to complement the generously-sized shower rose. The walls are meticulously constructed from La Pietra Compattata tiles (supplied by Domus). The resulting pattern of lines and colours, with alcoves for candles or botanicals, makes for a sensual and sexy space; the pièce de resistance of the WOW!house master bathroom.
A translucent screen separates the room from a gravel garden, the greenery a reminder that you are surrounded by natural materials, from the checkboard cork floor to the timber frame that marks out the central space. Every element is a work of craftsmanship, from the hand-made brassware to the custom marquetry panels around the bath (made by the Joinery Fitting Company). It is a bathroom to escape to, where the bather can be nourished in body and soul.
Concept art for House of Rohl Studio Mica bathroom
Key Products and Suppliers
One of the most exciting aspects of the WOW!house project is the opportunity for collaboration with other designers, makers and suppliers. Every room is the work of many hands, making it such a rich experience for the visitor. Studio Mica have painstakingly specified every last detail of the bathroom, identifying potential partners and bringing new layers of creativity into the project.
The House of Rohl and Studio Mica team greatly appreciate the contributions made by all those involved.
House of Rohl bathroom fittings
Victoria + Albert Vetralla 1650 bath in Standard White, Matt

Victoria + Albert Barcelona 48 wash basin in Standard White, Matt (shown right)

Perrin & Rowe Langbourn shower with exposed thermostatic valve and body jets in Satin Brass

Perrin & Rowe Langbourn bath shower mixer in Satin Brass

Perrin & Rowe 3-hole basin mixer (Callisto) in Satin Brass
Surfaces & Fabrics
La Pietra Compattata tiles, supplied by Domus

Raffia wallpapers by CMO Paris, supplied by Elitis

Terrazzo for massage table and plinth, supplied by 900 Project

Cork floor tiles supplied by Flooring by Nature

Curtain material 'Embrace' collection by JAB

Woven Matts from the New York collection by Woodnotes
Accessories
Alguacil & Perkoff Orbis™ Round Convex Bronze frameless mirror (shown right)

Faro Morea three-blade ceiling fan by Faro Barcelona

Curtain tracks, towel rails and ballet bar by Tillys Interiors

Handmade marble bowls by To and From  

Handwoven baskets and planters by Kalinko 

Stool provided by 

Plants supplied by Plantdrop
Fabrication
Custom Marquetry panels around the bath, end grain floor under bath and other fine wood crafts by the Joinery Fitting Company (photo right).

Massage table fabrication by the London Marble Company

Curtains made by Robena

Stand construction by Quantum Exhibitions
Lighting
Lighting supplied by LEDSC4
Supplier websites:

www.londonmarble.com
www.900project.it
www.robena.co.uk
www.tillysinteriors.com
www.toandfrom.co
www.woodnotes.fi
www.theapshop.com
www.domusgroup.com
www.elitis.fr
www.faro.es
www.flooringbynature.co.uk
www.jab.de/gb/en
www.joineryfitting.co.uk
www.kalinko.com
www.ledsc4.com
www.plantdrop.co.uk
www.anothercountry.com

About the House of Rohl
The House of Rohl is a family of bathroom and kitchen fittings brands, comprising of Perrin & Rowe, Riobel, Shaws and Victoria + Albert, and owned by Fortune 500-listed business, Fortune Brands.
House of Rohl London Showroom, Design Centre Chelsea Harbour, London SW10 0XE United Kingdom