Discover the Ultimate Hunter Valley Retreats: Top Accommodation Picks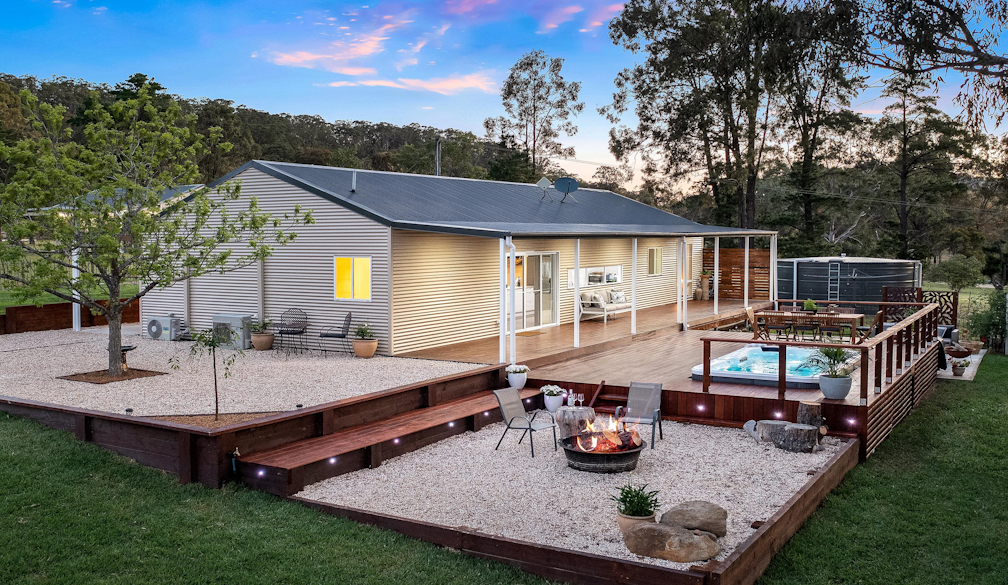 Hunter Valley is an Australian wine region that welcomes guests from all over the world and offers more than tasting reds, whites, and rosés. Exhilarating hot-air balloon rides, vibrant festivals like the Lovedale Long Lunch, and serene hikes such as the Great North Walk are only some of the reasons to stay here. Of course, finding the perfect lodging is also one of the key elements to having a wonderful experience. Here are our top accommodation picks that will help you discover the ultimate Hunter Valley retreats and ensure you make the most of your visit.
Aquila: a splendid hillside house
Nestled amidst a lush backdrop of palm trees, Aquila is a splendid hillside residence, perched high above a verdant valley full of vineyards. Its panoramic views are one of the main reasons guests decide to rent this Hunter Valley retreat. However, other characteristics, like having 4 bedrooms that accommodate up to 8 guests and a swimming pool are also among its many charms.
The interior of Aquila gives off warmth and hospitality, with its brick walls and soft wooden furnishings creating an inviting atmosphere. The dining area is thoughtfully positioned to maximize the enchanting view, ensuring memorable meals. Even the bathroom has been designed with nature in mind, boasting a generously sized window that allows you to stay connected with the natural beauty outside.
Alfie's Place: a family retreat
Alfie's Place is a cozy five-bedroom house perfect for families with kids and elderly members. This accommodation effortlessly combines vintage and contemporary elements, offering all the amenities you need, especially when traveling with small children. But if there is anything more specific you need, the licensed property managers at Unwind Hunter Valley will make sure your stay here goes off without a hitch.  
Inside, pastel walls, ample natural light, and neutral shades create a peaceful atmosphere. Outside, you'll discover a Mediterranean-inspired color scheme and a modestly-sized swimming pool surrounded by tropical plants, making it particularly enticing during the summer. A bonus is the slide leading straight into the pool — a fun addition for both kids and adults.
Mandalay Villas Estate: intimate retreat
Hunter Valley is renowned as a couple's retreat, and the Mandalay Villas Estate embodies this romantic spirit. Located under the Broken Back Mountain Range, this small yet luxurious accommodation marries modern architecture with the rugged Australian landscape. Considering it's not far from Sydney this retreat is an ideal weekend getaway to the wine region.
With a one-bedroom and two-bathroom layout, it's perfect for couples celebrating anniversaries or special occasions. The king-size bed with a massive wooden frame and porcelain lamps exude warmth and coziness. Not to mention a wood fireplace in the living room and a year-round heated swimming pool that adds to the allure and romance.
Abernathy House and Cottage: A aistoric elegance
A 19th-century Abernathy House and Cottage primarily serves as a stunning wedding venue but it's a wonderful option for corporate events or private celebrations. This is supported by its 17 bedrooms that can comfortably accommodate around 34 people, making it an excellent choice for large gatherings. Additionally, a spacious beer garden provides the perfect backdrop for outdoor parties during summer.
Leather and wooden furniture add to the luxurious ambiance, so do professional-grade kitchen appliances and a spacious kitchen suitable for hiring a chef for your event. Furthermore, conference facilities, completely equipped with sound systems and fast Wi-Fi help turn this historic estate into a spot for small conferences and team-building activities.
Bimbadeen Mountain Retreat: a luxurious escape
The extravagant Bimbadeen Mountain Retreat is a sprawling estate perched atop a hill that offers panoramic views of Hunter Valley. The estate can accommodate up to 10 guests in its five luxurious bedrooms.
However, it's the outside area that attracts the most guests to stay here. An inviting fireplace, a pizza oven, and a relaxing hot tub easily turn it into a wonderful choice for a cozy winter retreat when the crowds thin. A modern heating system and natural materials inside the house help turn Bimbadeen into a relaxing option to spend a weekend with friends and family in winter.
Arthouse Villa: style on the greens
Golf aficionados love coming to Hunter Valley for its many terrains, peaceful environment to play, and fitting accommodations, like the Arthouse Villa. This five-bedroom, four-bathroom villa accommodates up to 10 guests and is situated within a sprawling golfing area, so you can be in the game in a matter of minutes.
The interior offers a cozy living area with a fireplace and plush leather seating, while the kitchen offers state-of-the-art conditions to host cocktail and diner parties. All rooms scattered across the three floors offer stunning views of the lush green hills and meticulously landscaped grounds. Also, with the backyard being perfect for yoga or basking in the sun, those not into golf can spend time relaxing, when not exploring the Hunter Valley.
Lastly
These top accommodation picks in Hunter Valley promise unforgettable experiences for holidaymakers, celebratory gatherings, or those simply seeking a peaceful escape. With an abundance of activities and amenities at your fingertips, creating cherished memories or hosting memorable events is much easier in this enchanting Australian wine region.