aMBUSH Gallery Kambri explores the enduring charm of the 'still life' genre this June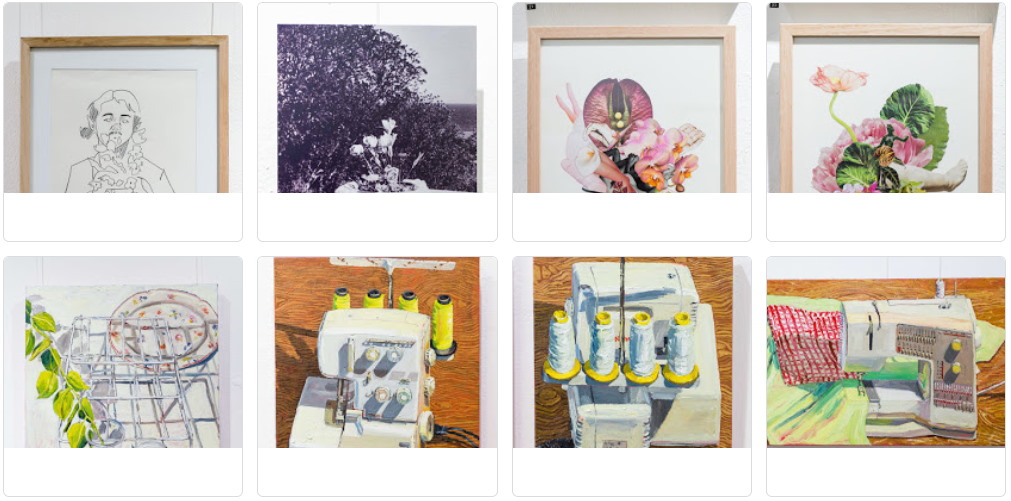 With a focus on the inanimate and inert, 'still life' is an age-old art genre that's been popular through different cultures and time periods, and takes centre stage in While We're Still Here – the latest exhibition opening at aMBUSH Gallery Canberra (Kambri at ANU).
Co-curated by aMBUSH Gallery and Scott Owen, the exhibition name references the tradition of still life and the concept of 'memento mori' (Latin for 'remember you must die') which is often used by the Stoic philosophers.
As Scott explains, "It's a reminder that we're temporary beings and it's showing things as they are, or in states of decay. I came up with the name during the bushfires because the show is also about finding the good things in life when everything is pretty rough."
Works from 20 Australian artists are showcased – including oil paintings, collage, photography and digital collage – with roots in the artistic traditions of still life but anchored in the present day either through their subject matter or their medium.
Exploring themes including contemporary feminism, gender roles, interpersonal relationships, religion, history, and modern living, the eclectic paintings in this large-scale group show will hint at untold stories and reveal cultural events and phenomena of our time.
"It's about reflecting on the manmade world – the ways that we see our society reflected through its products and its ephemera, or the things that come and go," Scott elaborates.
Whether the artists intend to remind us of the fragility of life and its inevitable conclusion, or to see the beauty and memories imbued in the objects of our everyday life, the still life remains a strong vehicle to articulate the human condition.
Featured artists include: Robby Bennett, Tristan Chant, Tom Ferson, Sam Field, Anna May Henry, Niqolet Lewis, India Mark, James Needham, Scott Owen, Jamie Preisz, Lucy Roleff, Nick Santoro, Seth Searle, Lilli Stromland, Sidney Teodoruk, Neil Tomkins, Bligh Twyford Moore, Cassandra Vollmer, Melanie Waugh and Tym Yee.
Produced by aMBUSH Gallery, While We're Still Here offers the chance for visitors to purchase affordable art from emerging and established artists. The opening night event will be held at aMBUSH Gallery Canberra (Kambri at ANU, Building 153, L2) on Thursday, 3 June from 6-8pm at aMBUSH Gallery and will include live music and complimentary drinks from Capital Brewing Co. and Lerida Estate.
To attend the exhibition opening, guests will need to pre-register via Humanitix as the capacity is limited.
The exhibition will then run daily from Friday 4 June to Sunday 11 July from 10am-6pm weekdays and 12pm-5pm on weekends, free of charge to the public.
Visit www.ambushgallery.com for more information, and look for aMBUSH Gallery on Facebook and Instagram for exhibition updates
Robby Bennett
Robby Bennett Robby Bennett uses painting as an attempt to depict the sights, smells, sounds and experiences of the Australian environment. The work inhabits a haphazardous cluster of gestural marks, with pictorial elements of Australian flora and fauna spliced with animation from pop culture. A rhythmic and repetitious ensemble of buzzing flies, thought bubbles, eucalyptus leaves and dark, ominous cartoon figures live and thrive in the harsh conditions of these abstracted and psychological landscapes. Bennett's work sets the scene for imagery of an ecosystem in flux, unique to the Australian experience. 
Tristan Chant 
The works were developed by appropriating digital files of 17/18 Century still lifes from the Rijksmuseum and deconstructing the images using audio and video software. The intent was to use software to breakdown or 'decompose' the organic representations in the image files. The works are then represented in painting format using pigment prints on canvas in found decorative frames kind of using art as a representation of a natural ecosystem. 
Tom Ferson
Tom Ferson's artistic output is wildly varied but nevertheless unmistakable. Having taken inspiration from a range of historical art movements as disparate as Impressionism and Pop Art, his body of work to date has been a unique amalgam of the traditional and the contemporary. The subject of his paintings and drawings has ranged from intimate portraiture and narrative painting to landscape and text-based work, and is bound by a visibly deft touch, an otherworldly and distinctive colour sensibility, and an inclination toward the surreal and psychedelic.  Tom was born in Sydney in 1988, graduated from the College of Fine Arts in 2009, and currently lives and works in Melbourne. 
Sam Field
Sam field is a Hobart based artist, completing his Bachelor of Fine Arts at the University of Tasmania in 2016. Field was a finalist in the Hadley's art prize in 2018 and the Henry Jones Art Prize in 2019, winning the Contemporary Arts Tasmania prize in 2016. His paintings are based on Australian cultural narratives, the landscape and human fallibility. He is represented in Hobart by Despard Gallery and AKBellinger in NSW. 
Anna May Henry 
Anna May Henry is an emerging contemporary artist and graduate from the National Art School, working within the genre of Still Life, from an observation based studio practice. These paintings in this group show were painted in the midst of Covid-19 in her Petersham studio, they are simple, traditional paintings from life and were a great distraction from when things were grim. 
Niqolet Lewis
Niqolet Lewis is an emerging artist based in Sydney. Lewis has a MFA in Painting, graduating from the National Art School in 2018. Lewis has exhibited throughout Sydney since 2010, including group shows at Liverpool Street Gallery and aMBUSH Gallery. 
India Mark
TBC
James Needham
James studied at the Oxfordshire College of Art in the UK, graduating with a Diploma in General Art & Design and receiving his Bachelor of Fine Art from the National Art School. Needham's work focuses on the people and objects he encounters in his everyday life. James' figurative works focus on interpersonal relationships, whilst in his still life's the trace of the human left behind hint at untold stories. 
Scott Owen
Scott Owen is a Sydney-based artist who investigates the bittersweet, joy in melancholy, and earnest reflection through still life and landscape painting. He completed a Bachelor of Fine Arts in Painting at the National Art School in 2015, and was selected as a finalist in the York Botanic Art Prize in 2020 and the Eutick Memorial Still Life Award in 2019.
Jamie Priez
TBC
Lucy Roleff
TBC
Nick Santoro
Nick Santoro holds a Bachelor of Fine Arts from UNSW Art & Design. Nick's practice employs painting, sculpture and installation as a means of social documentation. His narrative driven works draw upon contemporary art, fashion and pop culture to create subverted and revealing accounts of cultural events and phenomena, through applied creative license, satire and visual critique of modern living.
Seth Searle
My work investigates the relationship between identity and performativity. Working with images of cropped limbs, I consider the dominance of the hand; of its connection to and escape from the body. Working with motifs of fabrics, foods and various containers, I examine the value we place on the vessel. Within these works, gesture is staged as a repetitive performance unfolding on a stage set, attempting to articulate a feeling of theatrical uncertainty in the performance of self and to ask the question: What parts of this performance are visible?
Lilli Strömland
Lilli graduated from the National Art School with a Bachelor of Fine Arts (Painting) in 2015. Strömland was a finalist in the 2018 Waverley Art Prize, and was a highly commended finalist in the Mosman Youth Art Prize (Tertiary) in 2016. Lili was also the winner of the Chrome Prize for Excellence whilst still studying at the National Art School and was a semifinalist in the Douglas Moran Portrait Prize in 2014. 
Sidney Teodoruk
Sidney Toedoruk is an artist of contrasts. Using every visual device at his disposal, Sidney weaves strange narratives drenched in dichotomous imagery and text, then obscures large areas in swathes of block colour, inviting the viewer to fill in the blanks. Nostalgic, childhood objects are randomly scattered throughout fractured, neo-expressionist scapes, simultaneously evoking feelings of playfulness and unease. 
Neil Tomkins 
Through ten years of oil painting, Tomkins continues to explore a contemporary approach to mark making & this classic medium. Including an extensive collection of various commission projects & murals, Neil has also been involved in various artists' residencies and studio programs including locations such as Portugal, India, Peru and Mexico. 
Bligh Twyford Moore 
Through loosely constructed figure paintings and portraits, Bligh attempts to comment on celebrity, anonymity and ennui on the internet. 
Cassandra Vollmer
Cassandra is currently a Visual Arts, Visual Design and Photographic and Digital Media teacher with a postgraduate Bachelor of Teaching in Secondary Education at the University of Technology Sydney. Vollmer also has a Bachelor of Fine Arts as well as a Graduate Diploma in Art Administration from the College of Fine Arts, UNSW. Cassandra has been named as a recent finalist of the Zart Art Teacher Artist Prize in 2021. 
Melanie Waugh
Waugh completed a Fine Arts Degree from the National Art School in 2001. Melanie's broad brushstrokes and rich colours reflect the dynamic diversity of Australia presenting an energetic picture of the vast terrain. Native flowers hold an endless fascination for the artist; each collection having its own unique shape and direction, forming an architecture that creates a common theme that is the abstract explosion of colour. 
Tym Yee 
Tym Yee is an emerging artist based in Sydney. He uses expressive marks of oil paint to explore and document simultaneous moments of movement and stillness in the Australian landscape. Yee is currently completing a PhD at Macquarie University, researching how art-making can form part of a scholarly research methodology. In 2020 he was awarded a Fulbright Scholarship at Parliament House to pursue developing his creative practice methodology at Harvard University.
About Kambri at ANU
Kambri at ANU is located in Australia's capital city, Canberra. Their strong ties to the local area are reflected in the gifting of the name 'Kambri' by elders from the ACT's four Indigenous communities. The Kambri precinct will be known as a hub for innovation and knowledge, while also providing a welcoming space for the greater Canberra community to gather. Facilities and services include: a multi-storey medical centre; 24-hour pool and gymnasium; a culture and events building hosting theatre, concerts and functions; a unique laneway and lawn retail experience with dozens of independent food and beverage operators, plus abundant greenscapes where students, staff, families and city workers alike can relax, reflect and be inspired. Kambri's year-round calendar of events and activations will ensure it offers an engaging and eclectic environment, delivered within a village atmosphere.
About aMBUSH

aMBUSH Gallery – an initiative of Wiltshire + Dimas – is an award-winning art gallery, social enterprise and creative placemaker that thrives on operating outside the parameters of a traditional gallery. They curate and produce arts and cultural activities both in Australia and overseas, with a program of site-specific, project-based art activations stemming from a unique fusion of philanthropic and commercial impulses that engage audiences, provide sustainable futures for artists, and establish a strong presence for their partners. Their newest exhibition space at the ANU's new Kambri campus is a modern, world-class facility renowned for its focus on innovation and excellence.