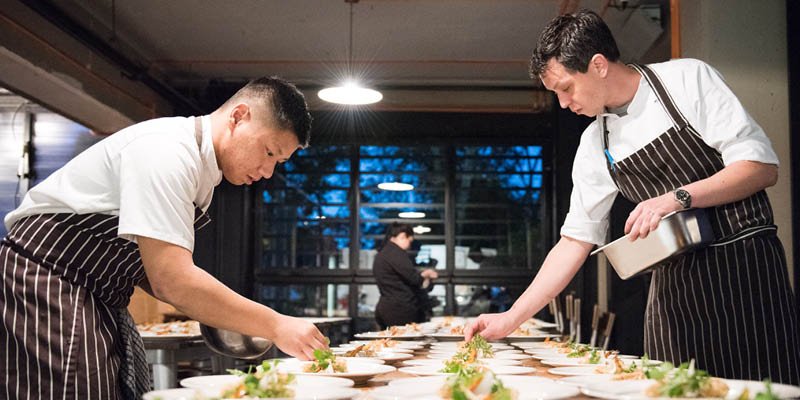 Casula Powerhouse Arts Centre (CPAC) and its in-house dining destination, Bellbird Dining + Bar will soon welcome nocturnal lovers of art and fine food as they open the doors to the public on Friday and Saturday evenings, starting Friday 19 February 2021.
With free entry, the new evening trading hours mean hungry culture seekers can enjoy a delicious dinner at Bellbird before admiring artworks in the gallery's exhibition spaces.
"Casula Powerhouse will now be the first and only major gallery to be open every Friday and Saturday evening, making the gallery more accessible to the public and giving people the chance to enjoy this amazing space at night. You don't have to eat at Bellbird when you visit, but if you do, I'm sure it will make your experience even more enjoyable," said CPAC Director Craig Donarski.
The 66th Blake Prize Finalist Exhibition will be one of the first exhibitions for evening guests to enjoy. The Blake Prize engages local and international contemporary artists in conversations on the wider experience of spirituality, religion, and belief and features over 80 finalist works on display as a part of the 2021 exhibition.
The chefs at Bellbird Dining & Bar have drawn on their passion for showcasing locally-sourced, seasonal produce, much of it coming from their on-site garden, to develop a mouth-watering dinner menu. Presented as a two-course menu ($49pp) with the option of adding dessert ($10pp), each dish has been lovingly created by Cordon Bleu-trained Head Chef Federico Rekowski.
"This is an exciting evolution for Bellbird and what we can offer our guests," said Rekowski. "It gives us an opportunity to get creative with our dishes, up the ante and do something new and unexpected. All while staying true to the Bellbird philosophy of using sustainable, high-quality produce in everything we do."
As the dinner menu plans to change with the seasons, so too will the programming at CPAC with film screenings, concerts, comedy and art classes added to the night-time offering.
Stay up to date with upcoming programming by signing up to the CPAC newsletter at casulapowerhouse.com
Friday and Saturday nights at CPAC and Bellbird Dining + Bar
Opening Hours: 6pm every Friday and Saturday (starting Friday 19 February)
Website: www.casulapowerhouse.com
Facebook: www.facebook.com/bellbirdatcasulapowerhouseliverpool
Enquires and Bellbird Bookings: (02) 8711 7077
Sample Dinner Menu
2 Course Dinner Menu $49pp
Artisan Warm Bread & Cultured Butter
Entrées Served to Share
Carnivore
Leppington Valley Figs, Blue Cheese, Serrano Ham & Truffle Honey
Chicken Parfait, Confit Wings, Apple, Fennel & Green Elk
Cured Salmon, Brioche, Black Garlic & Sesame Seeds
Cured Swordfish Ceviche, Cherry Tomatoes, Avocado, Coriander & Crisps
Or
Vegetarian
Textures of Beetroot, Goat Cheese & Honey Walnuts
Miso Pumpkin, Labne & Pickled Red Cabbage
Smokey Eggplant Puree, Charred Eggplant & Hazelnuts
Confit Tomatoes, Stracciatella & Basil Powder
Choose a Main Course each
               Herb Crusted Cowra Lamb Loin, Smokey Eggplant, Confit Tomatoes & Olive Salt
Sous Vide Duck Breast, Onion cream, Charred Broccolini, Plums & Jus
Market Fish, King Prawn Sausage, Confit Garlic, Peas & Prawn Crumb
 Riverina Grain Fed Beef Fillet, Mushroom Duxelle, Enoki Mushroom & Jus
Sous Vide Chicken Breast, Miso Roasted Pumpkin, Pickles & Pistachios
Confit Field Mushroom, Mushroom Duxelle, Kale. Onion Cream & Enoki Mushrooms
Hand Made Ricotta Gnocchi, Leppington Valley Figs, Fennel & Shaved Parmesan
Complementary Side Dishes
Fried Brussel Sprouts & Sesame Dressing
Pickled Fennel & Shaved Cucumber Salad
Add Dessert $10
Vanilla Bean Crème Brulee
Mango, Passion Fruit & Meringue
Kahlua Parfait, Coffee Gel & Roasted White Chocolate
Casula Powerhouse
Located on the banks of the Georges River, the Casula Powerhouse is a multi-disciplinary arts centre. Showcasing six galleries and featuring a range of permanent and temporary exhibitions, the Casula Powerhouse is a premier art space in South West Sydney. Boasting a 321-seat theatre, Casula Powerhouse plays host to a range of theatre and cinematic productions each year.
Bellbird Dining + Bar
Bellbird's philosophy is guided by the principles of local, seasonal and accessible, with flavours reflecting a contemporary blend of modern influences ranging from French and Asian through to South American. Led by Cordon Bleu-trained head chef, Federico Rekowski and sous chef, Steven Pham, Bellbird focuses on showcasing locally-sourced, seasonal produce through simple and delicious recipes that often leave people asking for more. The restaurant's chefs and staff pride themselves on creating memorable experiences for every diner.
 
Liverpool City Council
Located in South West Sydney, Liverpool City Council governs 42 suburbs with residents from a range of different cultures and ethnic backgrounds. The Council is dedicated to supporting the community by providing high levels of facilities and resources and to establish Liverpool as "the vibrant regional city of opportunity, prosperity and diversity."