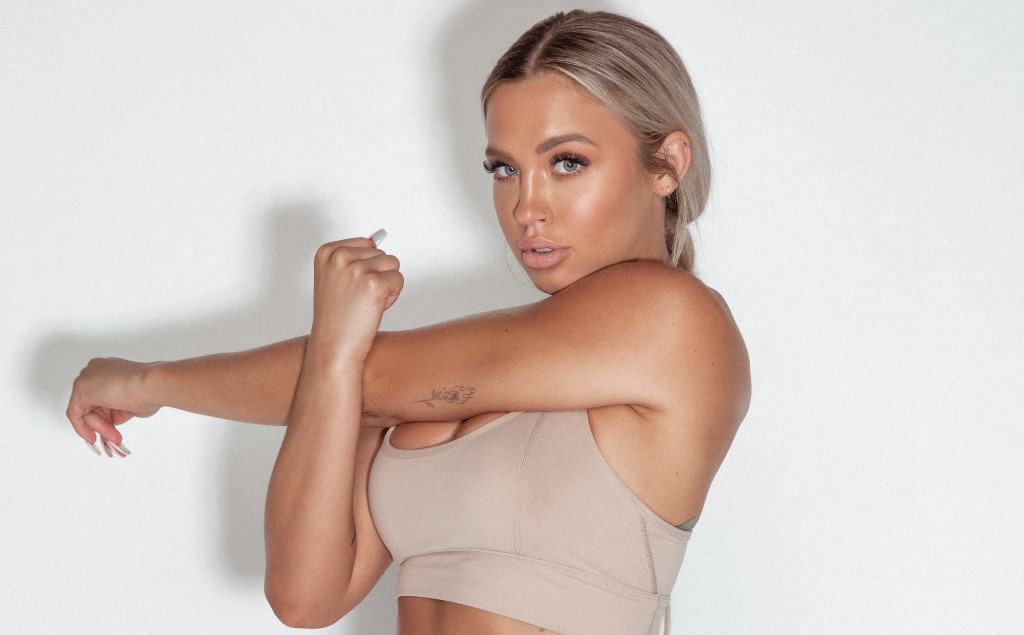 It's World Pizza Day TOMORROW Tuesday, February 9 and Australian influencer has just released a gorgeous and healthy plant-based pizza from her fitness app, Tammy Fit.
The plant-based pizza recipe which will be released soon as part of the Family Meal section, is just one of many plant-based family meals that are currently being developed for the app by New Zealand nutritionist Kelsi Boocock.
Tammy says, "Plant-based dishes are becoming more popular and we've had so many requests for them in the app as more families are following vegan and vegetarian diets."
Nutritionist Kelis Boocock says when it comes to our health, people seem to be missing the connection between what we eat and how it makes us feel.
"Eating more whole foods such as fruits, vegetables, grains, nuts, legumes and seeds can have the ability to not only help your physical wellbeing but also lift your mood, and improve your confidence and self-esteem," says Ms Boocock.
"There are endless stats and figures about the benefits of a plant-based diet, but I think how we feel is ultimately the most important factor, and by increasing your plant intake you will not only help reduce the load on the environment but also impact your overall health and wellbeing."
Tammy Fit is helping more than a million people around the world get fit and has several 8-week Home Programs, including a post-pregnancy program, Gym Booty Version 1, Gym Booty Version 2, Home Booty, and Gym Full Body. There are also a number of upper body, HIIT, and ab workouts available.
The Tammy Fit app includes:
Workout Programs with timers/videos
Home + Gym Programs
Individual Workouts
Nutritionist-designed Meal Plans
Healthy Treats
Smoothie Bar
Family Meals
Macro Calculator
Weight/Strength tracker
Step + water tracker
Constant updates & much more
About Tammy:
A mother to two children by the age of 22, Tammy has created a global fashion, health and fitness business empire within a short time frame of three years. She is one of Australia's biggest influencers, with nearly 12 million followers on Instagram (the rest are Hollywood A-listers) and over a million on YouTube – platforms she has leveraged to promote her health and fitness brands.
Healthy Plant-based Pizza recipe                                         
             Serves 4                                                                     
             Preparation time 15 mins                                                   
Nutrition (per serving)                                                                           
             38 cal                                                                  
             1611kJ                                                                    
             14.5g fat                                                       
             40.2g carbs                                                  
             22.6g protein                                               
             4.3g sugar                                                  
             3.3g fibre                                       
Ingredients                
             4 wraps / pizza bases such as Gluten Freedom Fancier Sourdough Pizza Bases
             1/2 cup pizza sauce                             
             1 onion sliced              
             1 zucchini thinly sliced                
             1 cup mushrooms thinly sliced                
             100g mozzarella (vegan if needed)                        
             4 tbsp pesto                          
             1 handful fresh basil                              
             1  cup vegan chicken                        
Directions                                                                             
1 Preheat your oven to 200 degrees. Layout your wraps and top with your pizza sauce, spreading it out evenly.
2 Add the red onion, zucchini, mushrooms, pesto, vegan chicken and mozzarella.                                                                           
3 Place on a sheet of baking paper on a tray and cook in the oven for 15 minutes or until golden.                                                                             
Five Fun Pizza Facts
Pizza Day started in the 10th century in Naples, Italy
It started out as a simple flatbread spread with sauce and sprinkled with cheese
Legend has it that the classic margherita pizza was invented in 1889 by a pizzaiolo named Raffaele Esposito for Queen Margherita
The cheesy golden discs really exploded after World War II when American soldiers came home from Europe with a taste for Italian dishes 
The most expensive pizza in the world costs $12,000 – it's called the Louis XIII. Made from organic Arabian flour, it's dusted with Murray River pink salt and takes 72-hours to prepare. It's topped with three types of rare caviar – Oscietra Royal Prestige, Kaspia Oscietra Royal Classic from the Iranian coast, and Kaspia Beluga – Norwegian lobster and 7 types of cheese. The dish is also served with host of the finest hand-selected beverages including Champagne Krug Clos du Mesnil 1995 which compliments the lobster and caviar, followed by Carta Real Sanches Romate Finos brandy and Louis XIII cognac – the rarest cognac in the world.