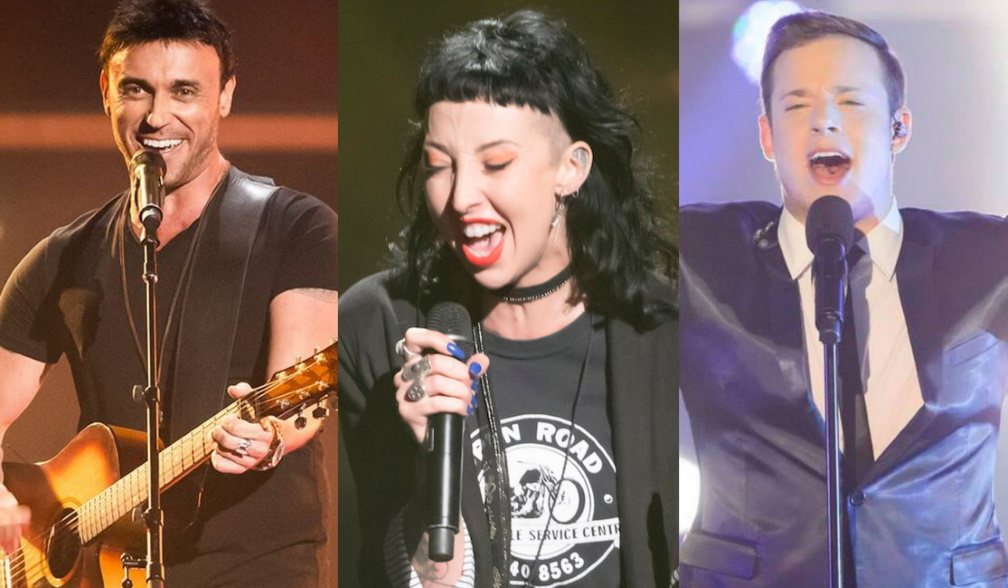 The Voice's Team Delta Grand finalist: Stellar Perry & Hi-5's Nathan Foley team up with AGT's Greg Gould for Charity single written by Delta Goodrem
Releasing on 10th October 2021 for 'World Mental Health Day,' Australia's Got Talent star Greg Gould has brought together two of his talented friends: Nathan Foley (founding member Hi-5, The Voice 2019) and Stellar Perry (The Voice Grand Finalist 2020).  The trio join forces for a new heart stirring version of Delta Goodrem's 2006 hit: 'Together We Are One.'
Gould, Foley and Perry have all donated their time and talent to the cause, with all money raised from streaming and downloads going directly to GiveOut Day.  The track will be their official anthem for 2021.  All money raised from this single will be doubled and matched dollar for dollar, by GiveOut Day's partners.  GiveOut Day is a national day that raises much needed funds for over 80 different LGBTQIA+ organisations.  It includes support for the transgender & gender diverse community, creating safe spaces for rainbow communities and supporting mental health programs for LGBTQAI+ Youth. 
Greg Gould, one of the official Ambassadors for GiveOut Day 2021, is no stranger to collaboration.  After releasing a 90s duets album in 2020, the Album reached #1 on the Australian iTunes Charts. It featured duets with the likes of Katie Underwood (Bardot), Rhonda Burchmore, Inaya Day, Damien Leith, Lynne McGranger (Home & Away) and Tania Doko (Bachelor Girl).  Greg also achieved huge international success on his 2017 collaboration with U.S Girl Group En Vogue singer Maxine Jones, garnering over 20 million views of his heartbreaking music video.
Best known as an original member of the Internationally successful Children's TV group, Hi-5, Nathan Foley has won: 3 Logies, 5 ARIA Awards and a Helpmann Award.  Nathan recently released two new originals from his forthcoming album: 'Hurricane' and will tour nationally in 2022.  Stellar Perry released her first EP 'My Baby Burns' and will also tour nationally in 2022 in a new production 'Express Yourself' - paying homage to the Queen of Pop, Madonna.
'Together We Are One' was written and performed by Delta Goodrem for the 2006 Commonwealth Games and was also used as a farewell tribute to Simon Cowell on American Idol.  The track was sung by its various winners over the years, including: Kelly Clarkson, Jordin Sparks, Fantasia & Carrie Underwood.  This version was produced by Robyn Payne who also donated her time to this important cause.



For more info, go to: